Description
Reviews
BowNet
Bow Net Football Kicking and Hiking Sports Net

Portable football kicking and hiking net. Unique design makes it the most portable practice Kicker net ever. Folds up easily into carry bag. Includes hiking attachment for practicing field goals, punting and shotgun snaps. Use it on the sidelines or in the park. Stable and durable. Good for any age group. Used by Division I Colleges.

Dimensions: 4' W x 7' 4" L.
Weight: 27 lbs.
Easy to assemble
Great Ball Return
Sturdy
Superb Engineering
Versatile
Wind Proof
All Weather
Game Day
Great For All Ages
Practice
Youth
Comments about BowNet Bow Net Football Kicking and Hiking Sports Net:
I bought this for my son who kicks for his high school football team, and he loves it. It is very easy to assemble and carry. It has good heigth and width with a good ball return. It is sturdy and wind proof. We researched every kicking net made and and this net came in first place. Like other Bow Net products, it is well engineered. It is great for all ages--for the front yard and game field alike.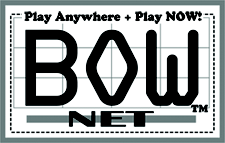 BowNet provides quality practice screens for football, soccer, baseball and softball. We carry a wide selection of BowNet practice screens, including soccer nets, football kicker and punter nets, baseball soft toss screens and softball soft toss screens.
Customers who viewed this also viewed these