Description
Reviews
Size Guide
Warnings
Others In Series
Schutt
Schutt Adult Vengeance DCT Football Helmet

Helmet and Chinstrap only. Facemask not included.

Redesigned shell with next-generation DCT (Dual Compression Technology) TPU cushioning system. Outer layer (against the shell) absorbs more energy against violent impact collisions. Inner layer manages the more frequent, less volatile impacts. TPU liner has high-impact foam in critical areas. Twist release retainer is standard, along with TPU jaw pads.

Adult Sizes: LG.
Standard Painted Colors: Metallic Silver, South Bend Gold, Metallic Light Gold, Metallic Vegas Gold.
Standard Molded Colors: Sunflower Gold, Grey, Kelly Green, Dark Green, Maroon, Navy, Burnt Orange, Purple, Scarlet, White.


Comfortable
Excellent Protection
Good Visibility
Cold Weather
Game Day
Hot Weather
Practice
Comments about Schutt Adult Vengeance DCT Football Helmet:
My son suffered a concussion last year so I wanted a helmet that offered good protection. This one fits the bill perfectly. The air bladder system also insures a great fit. It seems a bit heavy, but he is a bigger kid so really not an issue.
Comfortable
Excellent Protection
Good Visibility
Comments about Schutt Adult Vengeance DCT Football Helmet:
I play DE for a semi-pro team and Ive been using a Revo Speed for about 5 years now and Ive tried almost every other helmet on the market and the revo was by far the best all around helmet but I decided to buy this one because it fits the Big Grill 2.0( the one Justin Tuck wears) and Ive got to be honest I'm sold on Schutt helmets now! Looks cool, keeps me cool with great air flow and I notice a huge difference in the impact force vs all the other helmets Ive used.
Helmet Sizing
How To Get The Right Sized Helmet
This Chart will assist in finding a helmet with the proper size. These sizes are an approximation as some brands may differ slightly because of materials and design.
Small
6 - 6 1/2
19 - 20 1/2
Medium
6 1/2 - 7
20 1/2 - 22
Large
7 - 7 1/2
22 - 23 1/2
XLarge
7 1/2 - 8
23 1/2 - 25
XSmall
6 3/8 - 6 5/8
20" - 20 3/4"
Small
6 5/8 - 6 7/8
20 3/4" - 21 1/2"
Medium
6 7/8 - 7 1/8
21 1/2" - 22 1/4"
Large
7 1/8 - 7 3/8
22 1/4" - 23"
This helmet and/or faceguard is intended for use only in connection with the particular sport indicated. Proper use of the Equipment requires your compliance with all instructions, warnings, and notifications provided by the manufacturer of the Equipment.

WARNING: Do not use this Equipment if it is cracked or deformed; or if the material, coating, or interior padding is deteriorated. Severe head or neck injury, including paralysis or death may occur to you despite using this Equipment. Do not use this Equipment to butt, ram or spear an opposing player. This is in violation of the Sport rules and such use can result in severe injury to you and possible injury to your opponent. Contact in the Sport may result in concussion or brain injury, which no Equipment can prevent. Symptoms may include: loss of consciousness or memory, dizziness, headache, nausea, or confusion. If you experience any of these symptoms, immediately stop play and report them to your coach, trainer, and parents. Do not return to a game until all symptoms are gone and you receive medical clearance. Ignoring this warning may lead to serious or fatal brain injury. Faceguards do not comply with NOCSAE requirements unless properly attached to a helmet specifically listed by the manufacturer.

USE THIS EQUIPMENT AT YOUR OWN RISK. NO EQUIPMENT CAN PREVENT ALL HEAD OR ANY NECK INJURIES A PLAYER MIGHT RECEIVE WHILE PARTICIPATING IN THE SPORT. TO AVOID THESE RISKS, DO NOT ENGAGE IN THE SPORT.

ALL EQUIPMENT IS PROVIDED TO YOU ON AN "AS IS" AND "AS AVAILABLE" BASIS. TEAM EXPRESS DISTRIBUTING, LLC (TEAM EXPRESS) MAKES NO REPRESENTATIONS OR WARRANTIES OF ANY KIND, EITHER EXPRESS OR IMPLIED, AS TO THE EQUIPMENT. TO THE FULLEST EXTENT ALLOWED BY LAW, TEAM EXPRESS DISCLAIMS ALL WARRANTIES, WHETHER EXPRESS, IMPLIED, STATUTORY, OR OTHERWISE, INCLUDING BUT NOT LIMITED TO ANY IMPLIED WARRANTY OF MERCHANTABILITY, FITNESS FOR A PARTICULAR PURPOSE, TITLE, OR NON-INFRINGEMENT.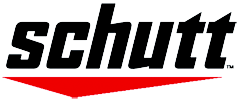 Schutt provides quality football equipment. We carry a wide selection of Schutt football equipment, including adult football helmets, youth football helmets, adult football shoulder pads, youth football shoulder pads, DNA Pro Plus football helmets and ION 4D football helmets.