Schutt Adult O2 Pro Skill RB/TE/DB Football Shoulder Pad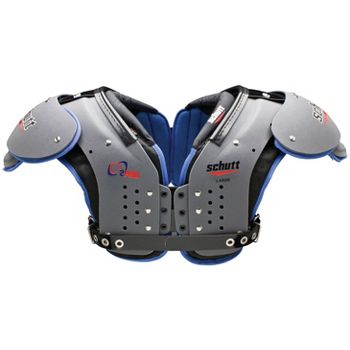 Schutt Adult O2 Pro Skill RB/TE/DB Football Shoulder Pad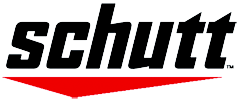 Schutt Adult O2 Pro Skill RB/TE/DB Football Shoulder Pad The O2 Pro showcases many of the features of the Air Maxx Flex 2.0 in an all-new body style. The impact management system of the O2 Pro handles forces and hits through a high impact perforated
more...
Item is excluded from shipping discounts.
This Product is shipped from the manufacturer.
Shipping charge: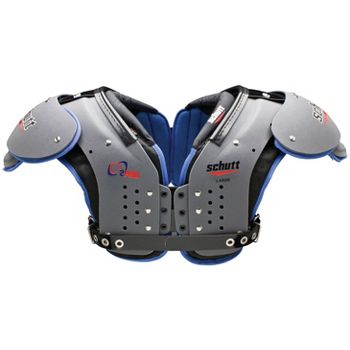 Description
Reviews
Size Guide
Size Guide Video
Schutt
Schutt Adult O2 Pro Skill RB/TE/DB Football Shoulder Pad

The O2 Pro showcases many of the features of the Air Maxx Flex 2.0 in an all-new body style. The impact management system of the O2 Pro handles forces and hits through a high impact perforated EVA foam. This pad not only dissipates force upon impact, it is the most breathable shoulder pad in the industry with perforations throughout the body of the shoulder pad. The perforated EVA foam and O2 windows allow air flow to and from the body encouraging the skin to dry and the body to continue its natural cooling action.

The O2 Pro Skill features the deepest arch cut we make, giving you a wide range of motion while keeping a long cut giving you the extra protection needed.

Positions: Running Back, Tight End, Defensive Back.
Sizes: MD.

TPU Cushioning
Air Maxx TPU cushioning that is used in Schutt's best performing helmets is featured in the new O2 Pro Shoulder Pad Series. TPU cushioning is positioned over the shoulders providing enhanced impact absorption. Air Maxx TPU is durable and will not break down – even after thousands of impacts.
Energy Lock Technology Powered by D3O®
Energy Lock Technology powered by D3O® is a lightweight, soft, and flexible material featuring unique molecular properties. In standard conditions its molecules flow freely, but on impact, they lock together to absorb impact energy and reduce the force transmitted. The material is rate sensitive, so the harder the impact, the greater the resistance to the force. Our D3O® foam is strategically positioned over the shoulder for optimal impact absorption.
Clavicle Channel System
System absorbs impact specifically around the AC joint and provides maximum shoulder protection. The hook and loop pad attachments can be re-positioned or removed to ensure a precise fit and complete coverage in the key hitting areas.
Tactical Arch Design
• High performance arch designs minimize weight without sacrificing hitting zone protection. These new arches are engineered for maximum range of motion and mobility.
• Streamlined and balanced arch designs keep arches and cushions in proper hitting position with less "upward" movement of shoulder pads.
• Newly designed, positioned and sized epaulets and caps (low profile) eliminate"grab" points and create better overall performance.
• Raised corrugations for additional strength and increased air flow.
Heat and Moisture Management System: O2 Windows
• The body cushion has 02 windows which are large openings that maximize air circulation, allowing excess heat to escape and sweat to evaporate. The windows are positioned in the front and back arch portions.
• Ventilated arches with raised corrugation and 7 mm vent holes combine with perforated high Impact EVA foam throughout the body cushion also encourage heat and sweat movement.
Other Design Features
• Flat Pad Design is low profile for improved mobility.
• BIOTHANE™ belts create a snug and secure fit while securing the shape of the arch to maximize range of motion.
• Pre-drilled for Accessory attachment.
• Removable deltoid and scapular pads.
• Stainless Steel hardware.
• Removable body for easy hand washing of cushions.
• The high impact EVA foam is sewn into channel allowing improved air flow.
• One of the lightest varsity shoulder pads on the field.
X-Large
19 - 20"
46 - 48"
2X-Large
20 - 21"
48 - 50"
3X-Large
21 - 22"
50 - 52"
4X-Large
22 - 23"
54 - 56"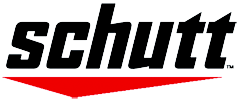 Schutt provides quality football equipment. We carry a wide selection of Schutt football equipment, including adult football helmets, youth football helmets, adult football shoulder pads, youth football shoulder pads, DNA Pro Plus football helmets and ION 4D football helmets.